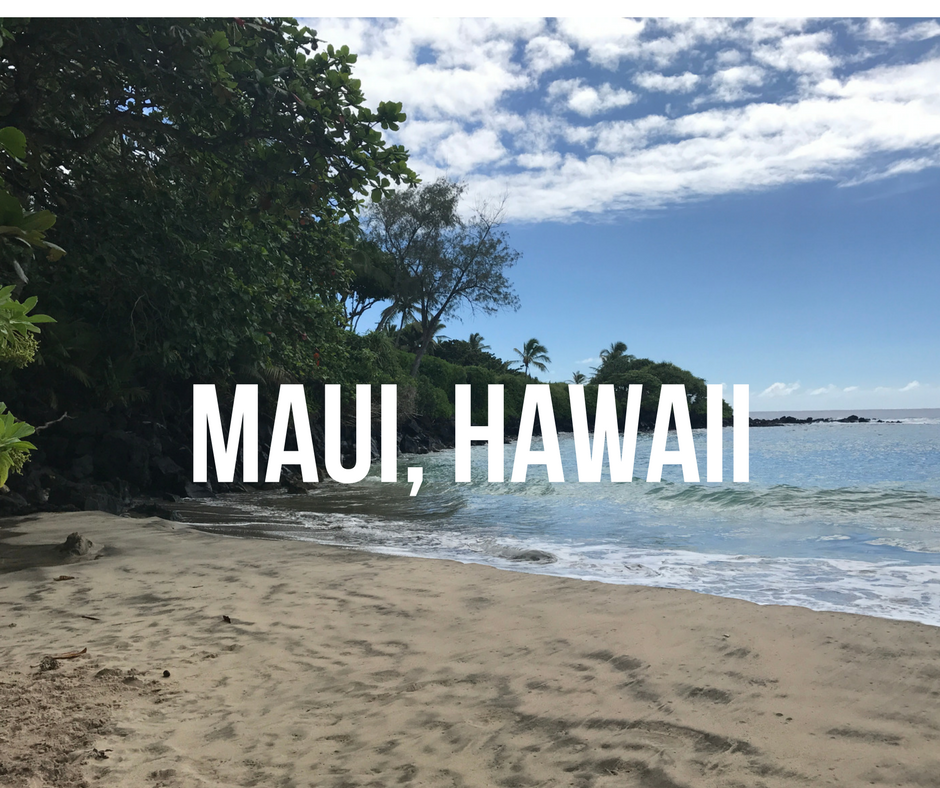 Is it acceptable that I'm discussing our trip to Hawaii months after taking it?
Although the better question would probably be: is there ever a bad time to discuss a trip to Hawaii? I think we can all agree the answer is no, no there is not.
Over two months ago now (*sob*) we were living Aloha on the island of Maui for 8 days. It was perfect. It was not cheap. I don't have a lot of insightful tips on saving money. We went all out because my husband was back from deployment and we'd saved a long time for this trip. We spent the entire week either lying on the sand, snorkeling, or drinking. Less adventuring than our norm. We spent our days in the sun and slept 9-10 hours a night. It was idyllic.
Stay
We stayed at the Sheraton Maui Resort & Spa in Kaanapali on the west side of the island.
We were upgraded to an ocean view room upon check in and the service only went up from there during our stay. From the bellhop to the maid service, the concierge to the pool attendants, the waitresses and bartenders – everyone was so warm and provided excellent service.
The room was gorgeous. The bed was comfortable. The grounds are lovely. The pools were sprawling and never too busy. The beach was beyond beautiful with world-class snorkeling steps from our hotel room. I have zero complaints about our stay besides price.
Anddddd you get what you pay for. If you're on a tight budget? I don't recommend the Sheraton at Black Rock. If you have some wiggle room, it's worth the investment.  
Flight
All our time and money flying to and from Fairbanks, Alaska finally came in handy. We paid for our plane tickets entirely on miles through Alaska Airlines. The direct flight from Seattle to Kahului, Maui was about 5 hours and really smooth. I've been to Hawaii once before when I lived in Minnesota and I'd had two layovers for that trip. A direct flight was a dream. We also got a free Mai-Tai on the last leg before we touched down in Hawaii so that was a pleasant surprise.
Rental Car
Maui is an incredible island with a ton to do, and a rental car is necessary to take part in all the splendor the island has to offer. The way we chose to enjoy this vacation we really only needed the rental car 3 of the 8 days we were there. We spent a lot time at our resort because our resort and the area within walking distance had pretty much all we needed.  
I told my husband I would like to redo Maui or another Hawaiian island staying in an Airbnb or condo and take advantage of the rental car a bit more. I wouldn't say it was wasted, by any means. The price to shuttle us around to the few activities we did too would have been roughly the same as renting the car for the week.
Activities
Snorkeling at Molokini on the Four Winds. Definitely invest in a snorkeling tour. The Hawaiian islands have breathtaking marine life and Molokini Crater is a very unique spot to see it firsthand. I realize as I'm recalling this excursion, I LIED, I do have one useful tip. If you or anyone you know gets motion sick on boats like I do, I absolutely recommend the vertigo/nausea patch you can get from a doctor. I have never felt so good, all day, while on a boat. Even when anchored and rocking – I felt nothing with the patch. I was like a whole new person. It does cause dry mouth and I couldn't drink enough water the three days I wore it. Literally no amount of water could fully quench my thirst. But as someone who gets motion sick from the littlest rocking motions or spinning, I definitely recommend for a boat ride or the road to Hana! I had to schedule an appointment with a doctor and she just asked me a couple of quick questions. You're "technically" not supposed to drink while on this patch, but the doctor kind of gave me side eye and said people usually get it for cruises so they can drink. Her final warning to me was, "Don't over do it".
Road to Hana. I won't recap it since there are so many resources out there to read. I've done the drive twice. It IS 110% worth it. From the waterfalls to the beaches to the adorable roadside stands. Take a day, drive to Hana, and use the Road to Hana Gypsy Guide. It's a really useful, insightful narration both directions.
Lu'au at the Sheraton. I have no lu'aus to compare this too. I thought it was a beautiful lu'au with Polynesian dancing and delicious, albeit strange, food. Also endless Mai Tais. Need I say more?
Explored Kihei and Wailea beaches. My last trip to Hawaii I stayed in Kihei so I was familiar with the South Maui beaches. We took a day to explore and enjoy them.
Food & Drink
This part caught us by surprise. We did not have a kitchenette (if/when we go back, we definitely will). The bars and restaurants at our resort were beyond expensive. We went to a grocery store on day one and got everything to made sandwiches and our drinks, and we still overspent our budget by A LOT.
I honestly didn't ever fully calculate by how much.  All bets were off on this trip. When your husband who just returned from Iraq wants to treat you to a nice dinner every night? ITS REALLY DIFFICULT TO SAY NO. There were also so many creative, delicious drinks that I didn't realistically budget for…. 
My favorite restaurants included Kimo's, Kihei Caffe, Hula Grill Kaanapali, and Island Cream Co.
And then the food behind the Insta-glam:
Overall
It was perfect. It was the relaxing Honeymoon we didn't have in Costa Rica (our actual honeymoon that we spent adventuring and having a more immersive cultural experience). Hawai'i is always a good idea. It's a gorgeous tropical island experience without any of the hurdles of going to a foreign country. If you haven't been yet, add it to your list. Just be a bit more realistic than I was about how much you'll eat and drink 😉 
I am, of course, itching for our next trip. Next stop in less than two weeks: Orlando, Florida!
Until next time,