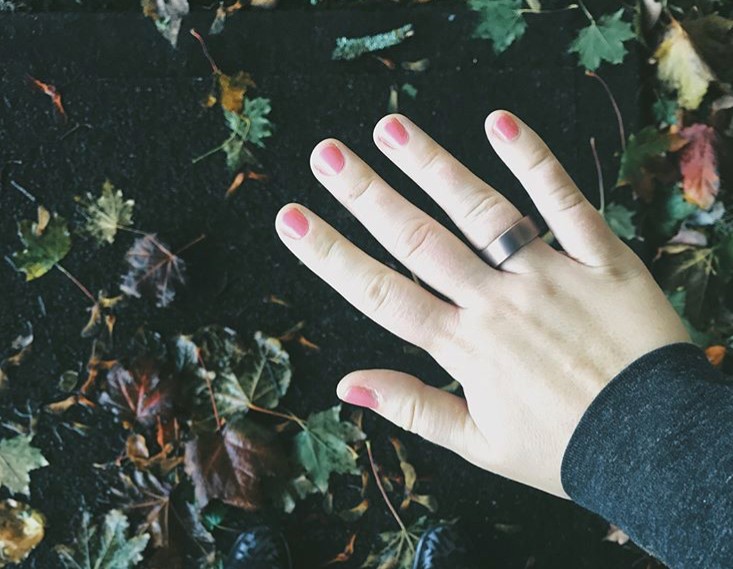 This topic is a bit off my normal blogging track, but I've had a handful of people reach out and ask about my Motiv activity tracking ring. With the holidays and a new year approaching, I wanted to get this full review up in case anyone was interested in a gift for a friend or for themselves. 
There were three main reasons I purchased the Motiv ring:  
My new work from home position has made me want to be more aware of my step count and how much I'm actually moving during the day

I want to track my workouts. I primarily workout at a class-based gym doing full-body, endurance based HIIT/Circuit and those can be difficult to track 

I wanted an activity tracker I was actually going to wear
***Disclaimer: The only other activity tracker I've owned is a Garmin Forerunner 15 watch exclusively for running. I have never owned a Fitbit. Feel free to direct any questions about your current tracker in the comments, and I can tell you how the Motiv ring is different/similar***
Ordering
The Motiv ring is $199.00, available in two colors, and currently only for iOS. Sorry 'bout it, Android users.
The company sends you a sizing kit to pick your ring size once you order the ring. You can try different fingers and sizes until you're confident in your choice. They even recommend wearing it for a full day first before choosing. I picked a size 8 ring for my right ring finger. I needed a size larger of the Motiv ring than my wedding ring for my left ring finger. Not sure if they run small or if I have inconsistently sized fingers.
The price point seemed in line with other trackers I've reviewed and it was really nice to be able to feel it out before you made a decision on size/finger.
Wearability
Since I wear a ring on my left ring finger at all times (marriage and all), and never notice it, I really hoped that would be the case for this ring.
Thankfully, it absolutely is. The Motiv ring is bulkier than a wedding ring, for sure. But after a day or two I honestly stopped noticing it was there. When I wear fashion bracelets I am constantly fidgeting with it or taking it off, so I knew I would never enjoy a fitness tracker on my wrist. I've also never found a bracelet tracker that was attractive or simple enough to wear all the time. 
This ring may be bulky but the rose gold color is very pretty and doesn't clash with anything I own. I wore it to a military ball because I genuinely forgot it was there and it looks fine in photos.
For wearability I'd give it a 9/10. In a perfect world it'd be a smaller width and even thinner, so that's the point I'm knocking off.
Syncing
The ring pairs with an app for your phone via bluetooth and will sync randomly throughout the day, or to be really cool, when you spin it slowly with your hand horizontal. It'll start flashing blue while you spin it and you can watch it quickly sync to the Motiv app. This makes me feel like I'm in Minority Report, so I do this often.
This is really seamless and I've had zero issues with the information going from the ring to the app. 10/10. 
Activity Tracking
Motiv's activity tracking is my favorite feature. It's great for tracking steps and workouts.
Its step count is extremely accurate. For the first couple of days, I gauged it against my phone's health app (by carrying my phone absolutely everywhere) to compare steps and the ring was registering every step. Probably even more accurately than a phone just jostling along in my pocket when I remember to have it on me.
For activity, you can set your number of active minutes you'd like to hit each week and then the app utilizes activity cards to show your progress The activity cards pop up for any consistent activity involving steps. If it's a consistent walk or run – not just shuffling slowly around the house from room to room – the card will typically just appear and tell you how much activity and steps you just accomplished. Very accurate for walks/runs.

Now for HIIT/Circuit Training – my main choice for fitness – the activity cards don't automatically pop up. I'm jumping and pulling and squatting and lunging, not just consistently moving in one direction so it makes sense why it doesn't. BUT that whole time I'm working out the ring is tracking my steps and heart rate. When I complete the activity, it'll either ask me if I was just active based on my heart rate OR I can simply add the activity. For an activity, I am able to adjust the window of time, label what the activity was, and assess my intensity. Was it a piece of cake or did you max out, etc. I can also edit activity cards that were automatic if I disagree with what the ring assessed. I've only had to do this a few times, but it's a really nice feature to lengthen or shorten the time of the activity if the tracking was off.
I love this feature and give it a 9/10. 
Sleep Tracking
The sleep tracker is the most inaccurate part of the ring. I'm also a lazy person in the morning and lay in bed scrolling through my phone for far longer than I should. Yes – it's a terrible habit. I'm working on it.
Point being – it registers all that time I'm laying there as time spent sleeping. So when I first wake up it tells me how long I've slept and then when I finally stand up – it's added x amount of time that I was still lying down.
It also doesn't account nightly wake ups very accurately or monitor the way I've seen other activity trackers monitor with time spent restless or woken up. It just shows a chunk of time (that's usually exaggerated). I am not a big fan of this feature and hope an app update in the near future could help with this. 4/10.
Heart Rate Monitoring
A basic feature that registers your resting heart rate while you sleep. If I have any alcohol – my resting beats-per-minute spike that night relative to the number of drinks I'd had. So that's pretty enlightening. Giving this feature a 8/10 though because I haven't yet found a spot in the app where I can just review my heart rate throughout the day, only if I'm sleeping or active.
Battery/Charging
The charge on my ring lasts about 2.5 days. It died twice in the first week because I forgot I actually had to charge it. Now I try to charge it every day for about 30 minutes when I have down time and that keeps it constantly charged.
The chargers are tiny pieces of plastic that I'm terrified to lose. They plug directly into a USB port and your ring magnetically attaches to them while charging. After a month of owning the ring, I can still tell you where both of the chargers are at this very moment. An incredible feat for someone who has lost a literal diamond from a wedding ring and every iPhone charger I've ever owned. The company says to contact them if you lose both chargers…so just don't…
I'll give the battery and charging an 8/10. I'd prefer something bigger that I'm less likely to lose, but it works really well.
Durability
It's waterproof to a pretty serious depth per the guide that came with the ring. I've showered and washed my hands with it, ran in the rain, plunged into dish water, etc. I have had no issues water-wise.
In terms of what the ring can endure, I have already scratched it from using barbells and pull-up bars at my gym. I don't know if you can expect to avoid this with a ring? That's probably something bracelet activity trackers can boast about if ring trackers become a hit. I am a pretty low-maintenance person though, so some scuff marks from lifting doesn't bother me.
I give the durability 8/10 because it's doing great so far, but it is already scuffed/scratched and I've only had it a month.
Overall
I really like it. The Motiv ring does basically everything the website guaranteed it would and I find myself excited to check my app throughout the day and see how I'm doing steps and activity wise. I think it tracks accurately and fits comfortably which were the biggest motivators for buying the ring in the first place.
Things I'd like to see improved? The sleep tracking feature. Definitely. I'm not sure how those are measured, but just lying down does not equate to sleep. Also potentially a heart monitor throughout the day. If my heart rate goes up during a client call – I want to know why I'm letting this person stress me out, ok Motiv?
I'd definitely recommend a Motiv ring. At least until they release a tiny dot of a microchip that goes in/on your skin, I'd say this is the next best (least intrusive) activity tracker out there.
---
I ended up having quite a bit more to say on this than I'd anticipated (surprise, surprise). Thanks for reading! Hope to have a travel post up next week before Thanksgiving. Can you even believe it's already that time of year?!
Til next time,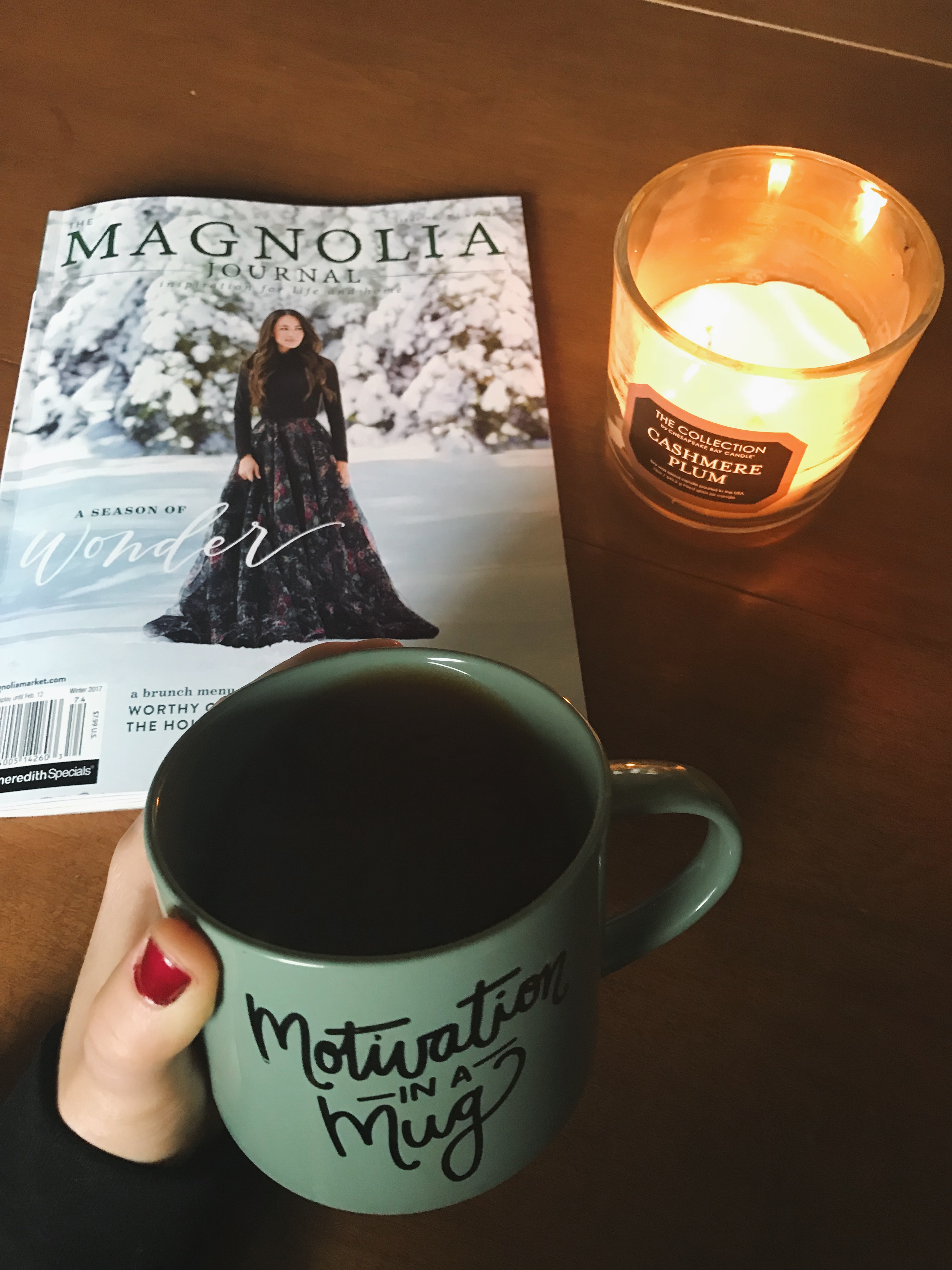 Almost 3 months ago, to the day, I quit my job. On the spot. There were a series of events that led up to that exhilarating (and terrifying moment), but looking back now, I don't have a single regret on how I chose to leave. The day after I quit my job, I boarded a plane to Iceland. Three days after I got back from Iceland, I boarded a flight to my new company's headquarters to start training for my new job. Three days after I returned from initial training, my husband came home from Iraq the night before my 26th birthday after 8 months away.
Since my birthday, I've spent almost all my time navigating my new job and spending preciously missed time with my husband. I've also managed to squeeze in a trip to Hawaii with my love, another week long work trip, and a long weekend home to Minnesota.
This is not all one giant excuse for neglecting the blog. Although if it helps, feel free to reread all the above 😉
No this is me saying periods of constant motion and excitement and highs can be incredibly wonderful, and also immensely draining. I haven't finished one book or taken time to journal or done yoga or enjoyed a cup of tea until this past week, and I finally realized I need to slow. down. 
This isn't saying I haven't had down time because trust me, I have. My husband and I have spent plenty of relaxing evenings and weekends catching up on episodes of Shameless, Stranger Things, Black-ish, Grey's Anatomy, etc. I've met up with friends and old coworkers for happy hours and dinners, and planned weekends filled with good company. But I haven't taken time for me, just me, to do the things that fill up my soul in so long.
My grandpa passed away last week. My mom had warned us kids about his health for weeks, but it still hit me hard when I got the call. His passing has left me with warm memories from my childhood, but it's also has me thinking about life and death. It's brought bouts of tears, has had me on my knees praying, and even taking moments to meditate.
It's reminded me the importance of taking a break. Not just to catch up on Netflix or to clean my house or run errands. But to literally stop and smell the flowers, and allow myself to feel any emotions they bring. To sit down in a quiet room with a hot beverage and a blank piece of paper and allow words to flow. To remember that fitness is great, but movement to become more in tune with your body (yoga! hiking! running!) can do more wonders than a workout with intentions to solely lose weight. To let myself think about life and death, and cope healthily with the emotions and questions philosophizing brings.
I have a tendency to let high highs be followed by low lows. Living in Alaska caused a lot of this roller coaster of emotions, and thankfully I feel a lot more balanced as a person now, but I truly think neglecting the moments and activities meant for your soul can be detrimental to this process. It's moments when I'm meditating or writing or setting my daily intentions that keep me balanced and in check. When I remind myself why I should be grateful each morning, I have a tendency to not have a post-vacation crash of feeling sad and overindulgent. When I take the time to write, whether for the blog or journaling, I come away a lot more at peace and accomplished then when I sit down.
Taking a break for yourself doesn't necessarily have to be an activity. It could be to pray or meditate or even cry. But there is a lot of personal fulfillment to be found in a hobby done alone, and taking whatever break you need to from friends or significant others or kids to do it. Maybe for you it's volunteering or singing or baking or napping or practicing makeup tutorials or fishing or what have you! Just find your soul-filling pursuits and get away from the crazy hustle and bustle of life to do them.
I am making a promise to myself this week to finish the book I started 3 weeks ago, to write this blog post and maybe one more, to enjoy two long runs, and to set daily/weekly intentions. Tip: The Five Minute Journal is my favorite app to help with becoming intentional and grateful each day. I challenge myself to be really specific and thoughtful when filling this out, and it still only takes 10 minutes or less from your day.
Filling my days with events and vacations and plans with friends is exciting and completely normal, but there is so much healing and growth found in slowing down. I would challenge anyone who reads this today to make yourself a cup of coffee (or cocoa or tea!) and light a candle you love the scent of and position yourself next to a window or nook in your home that makes you smile, and ask yourself what three things you're thankful for today. Get detailed. Say it out loud. Let it fill you up.
Not to be terribly cliche, but life is so fleeting. And of course you should fill it with the people you love and surround yourself with good company often, but I firmly believe you should also take time for you. Take moments to reflect and to do things that bring you personal joy. And don't do it for the Instagram. Do it for your mental and spiritual health. Find what fills your soul, and create time for it each week.
This topic was top of mind for me when I sat down to write this morning, and I think it's because life will not be slowing down any time soon. Between the holidays, a Christmas vacation to Florida, work trips, and a couple of big moves coming for the Mr. and I in 2018 (stay tuned!) – I am going to need to take my own advice about taking a break for ME now more than ever.
Hope all of you can, too.
xo,